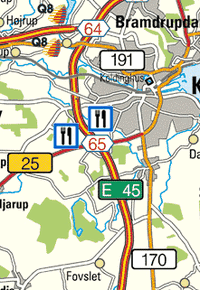 Harte is a service area on the E20 in Denmark between exits 64 and 65.
East
Service areas on E20
West
Kildebjerg
(56km, 35mi)

Harte

Last on E20
East
Q8 gas stations on E20
West
Korsør
(122km, 76mi)

Harte

Last on E20
Ad blocker interference detected!
Wikia is a free-to-use site that makes money from advertising. We have a modified experience for viewers using ad blockers

Wikia is not accessible if you've made further modifications. Remove the custom ad blocker rule(s) and the page will load as expected.